Daily life at Ramingining
During the late dry season of 1998 and again in 2000, I was privileged to visit and stay in Ramingining, eastern Arnhem Land. Ramingining is a community of around 700 (there are 60 homes and the population varies with season and ceremonial activity) situated on the northwestern edge of the Arafura Swamp. The traditional people of central and eastern Arnhem Land refer to themselves collectively as Yolngu - the local word for "us/people". Yolngu lead a largely traditional-based life, many of them living on their traditional clan lands while those in communities have a diet supplemented by produce from the community store. This produce is shipped by barge from Darwin.
The images depicted on this page clearly were not taken in a single day. My hope is that they will provide an insight into the daily life of a traditional Aboriginal community in northern Australia at this particular time of year.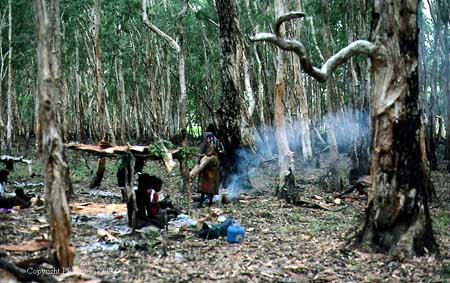 click on photo for enlargement
This is a typical day camp for the dry season. Situated within about 50 metres from the water's edge and beneath a canopy of paperbark trees, this afforded an ideal situation from which people could hunt for long-necked tortoise and associated wetland plant foods. The women and most of the children stayed and hunted here, while the men and some of the kids travelled to an adjacent area about half an hour away to hunt for pied goose. Paperbark stripped from the tree trunks afforded shelter, food preparation surfaces and seating.
---
| | |
| --- | --- |
| | Long-necked tortoises bury themselves in the drying mud fringing the receeding wetland. They're located by probing with metal rods. |
| | |
| --- | --- |
| Concealed beneath a few inches of mud.... | |
| | |
| --- | --- |
| | A successful capture..... |
Pied Goose is hunted and eaten on an almost daily basis during the mid to late Dry as the birds become concentrated at the shrinking water sources.

Preparation.....
| | |
| --- | --- |
| | These are water chestnuts (Eleocharis dulcis). Botanically, they're regarded as the same species as the water chestnut used in Asian cooking, but in Australia they're much smaller. They form much of the conspicuous grassy-looking vegetation in the wetlands of the north. These ones were collected from a pied gooses' crop during its' preparation for cooking. Full-flavoured, crunchy bushtucker. |
| | |
| --- | --- |
| We crossed the tidal flats and ..... | |
| | |
| --- | --- |
| | amidst the mangroves,..... |
| | |
| --- | --- |
| we collected freshwater mussels..... | |
| | |
| --- | --- |
| | These are dead ones - easy to spot with the valves partly open. |
| | |
| --- | --- |
| Can you see that fat, juicy live one in the middle of the photo? Hard to spot aren't they. | |
| | |
| --- | --- |
| | These are absolutely delicious raw or cooked. |
| | |
| --- | --- |
| The didjeridu is a traditional instrument in the Top End (from the Kimberley east as far as Mornington Island) and I was fortunate to be invited to tag along and see how they were cut and finished. | |
| | |
| --- | --- |
| | The water buffalo are big - one left a 'cake' behind - the boys decorated it with pandanus seed - what a laugh! |